Track sales and leads in real time with our affiliate tracking software. Learn how to track your website conversions with our affiliate tracking software.
Integrating the tracking code is the procedure that allows your affiliate program to connect to your website. In this way the affiliate tracking software will be able to recognize whether an action has been referred by an affiliate and will assign him the right commission automatically.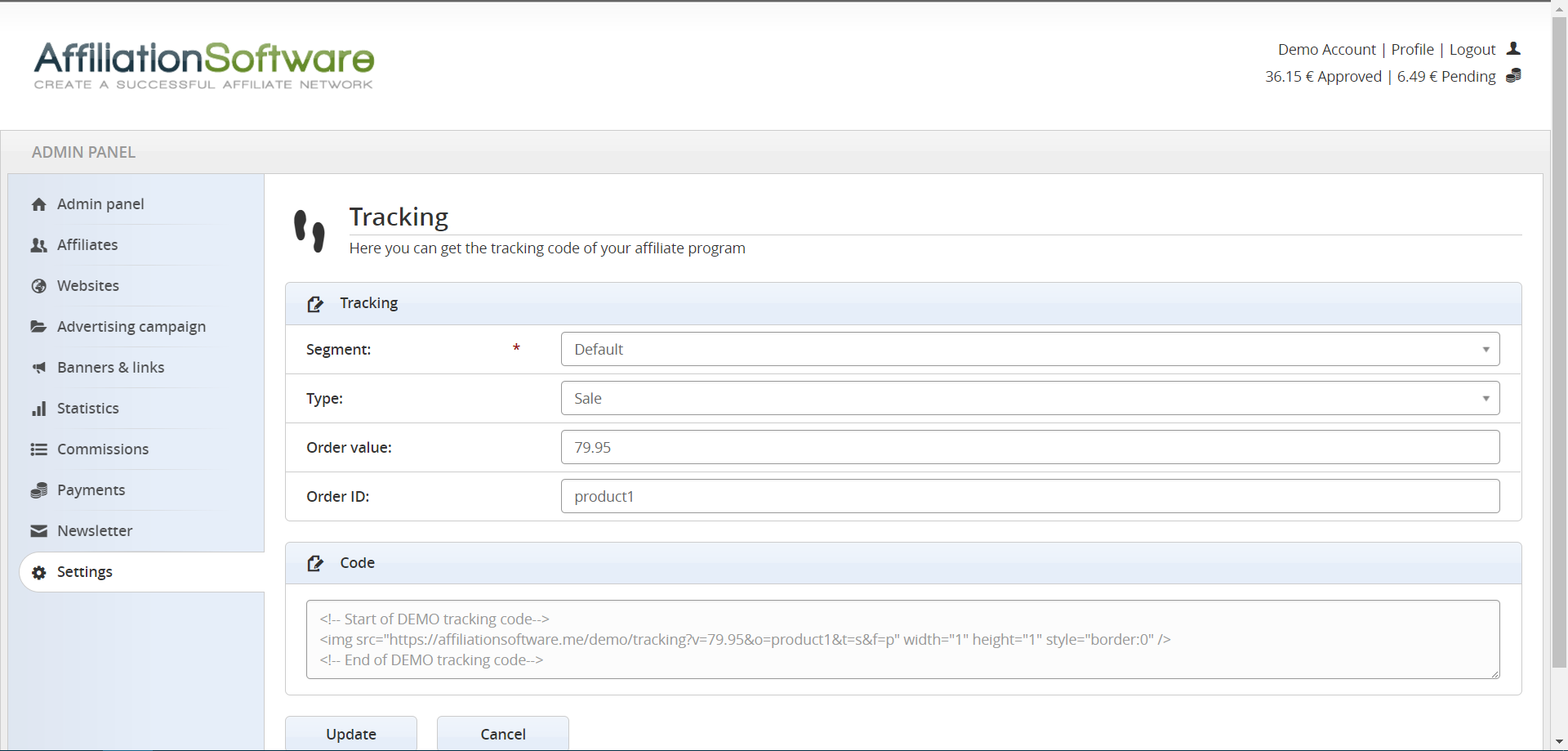 What is the Tracking code of Affiliation Software?
To automatically track the CPA commissions (sales, leads and actions) referred by your affiliates you have to connect your affiliate program to your website. To do that you just have to add the Tracking code provided by AffiliationSoftware on your website's "thank you page". The tracking code, also called a "tracking pixel", consists in a simple HTML code, that is invisible to the users.
You can get your Tracking code on this page:
Admin Panel > Settings > Tracking
---
How to integrate the tracking code on your website
If you are using an e-commerce or a CMS system that is compatible with our Affiliate Tracking Software, just contact our technical support team, who will promptly send you specific instructions that will explain step by step how to integrate the tracking code on your website.
Alternatively, if your e-commerce or CMS is not listed in this page, or if you are a web developer, you can follow our general solution to integrate the tracking code in any website.
---
Advanced Affiliate Tracking Software
Conversion tracking is automatic, in real time, and works on all devices. Choose your strategy between Last-click or First-click and manage the tracking lifetime. AffiliationSoftware also provides more advanced conversion tracking solutions, such as: Postback URL, 3PP tracking, Post-View tracking and Lifetime commission tracking.
---
You may also be interested in: