Getting started with AffiliationSoftware
This tutorial explains the steps required to set up your own Affiliate Marketing Program
1. Set up the commissions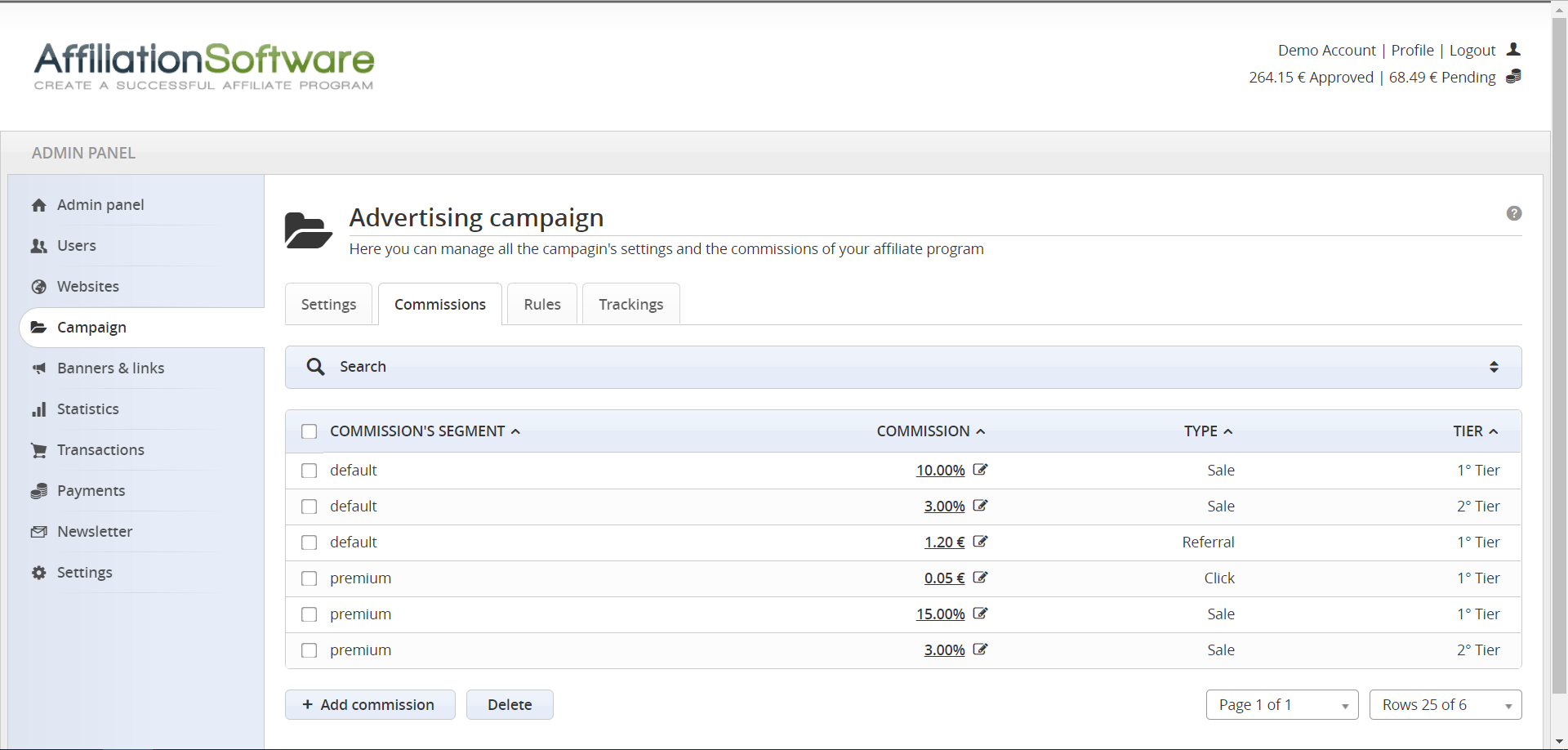 Your affiliates will promote your website and bring you traffic and sales in exchange for a commission of your choice. With AffiliationSoftware you can choose between various types of commissions and pay your affiliates according to a precise action (sale, lead, click, etc). For example, you could set a 10% commission for each sale referred by your affiliates. To set up your affiliate program commissions, go to: Admin Panel > Campaign > Commissions.
2. Insert banners and links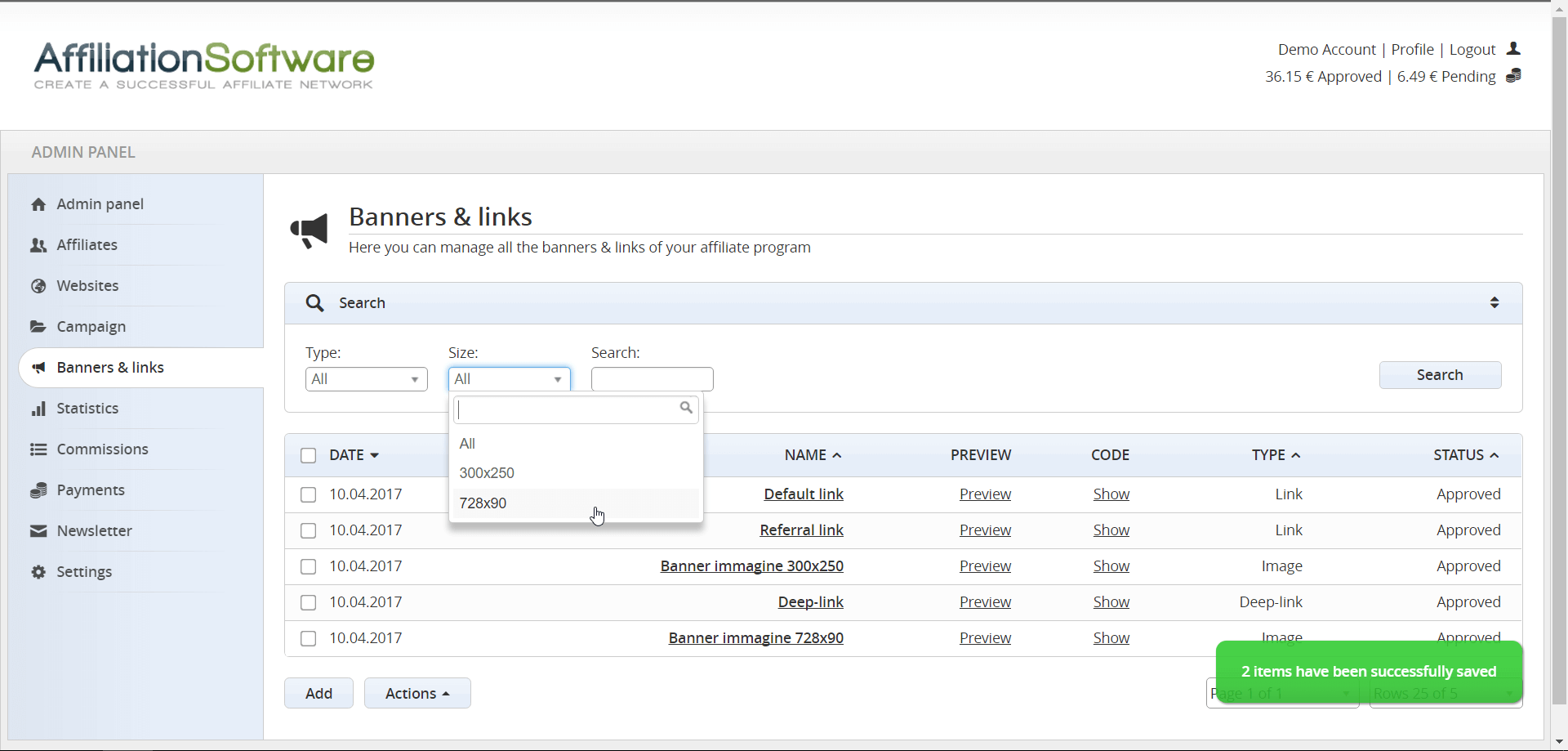 Your affiliates will promote your website using the banners and the links that you make available for your affiliate program. All banners and links available in the affiliate program are shown in the affiliate panel, where the affiliates just need to copy and paste the displayed code in order to place them on their websites, and to be automatically recognized as referrals. You can insert various types of banners and links by going to: Admin Panel > Banner & Links > Add Banner.
3. Integrate the tracking code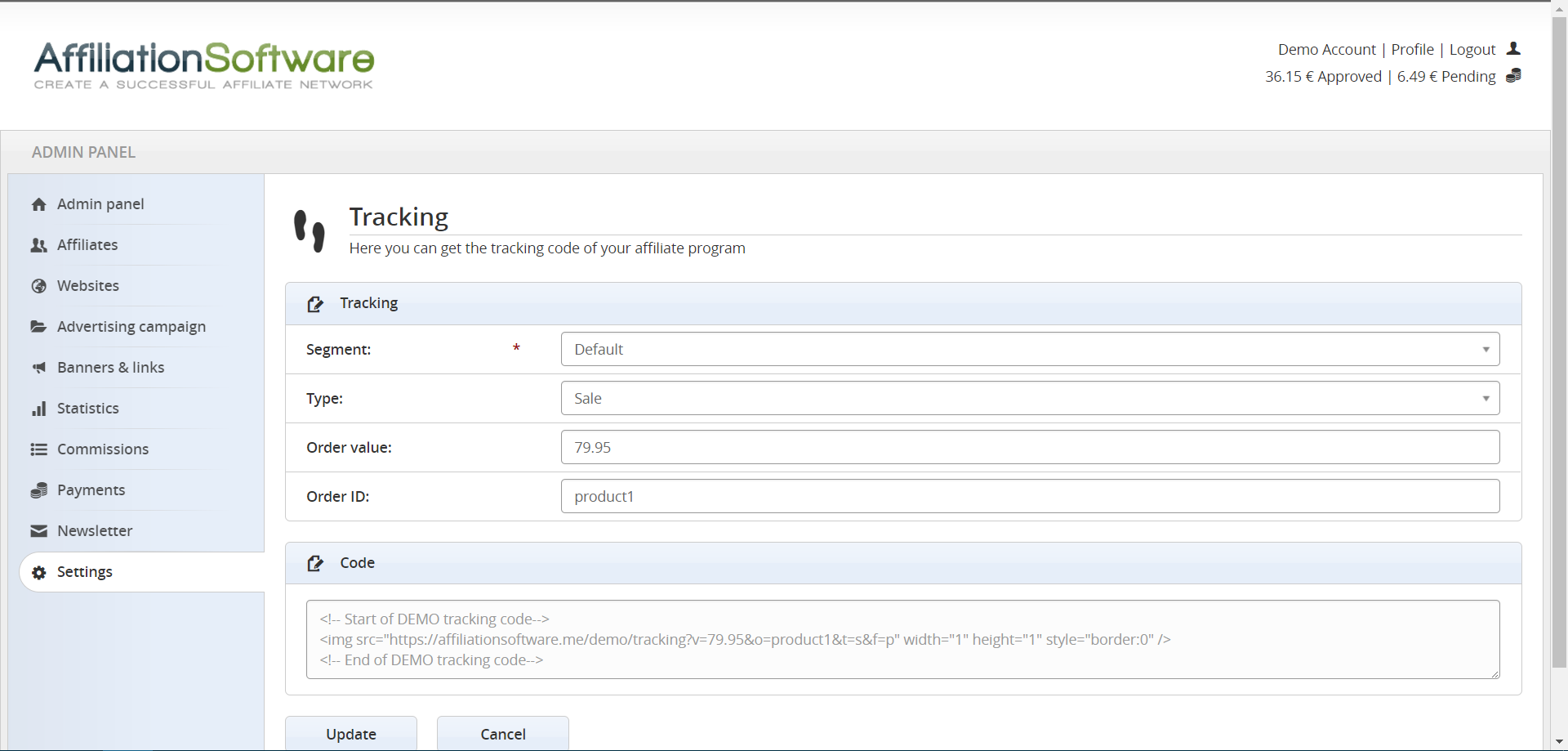 The tracking code is used to connect your website to your affiliate program. When a customer referred by an affiliate completes an action, AffiliationSoftware recognizes it and assigns him the correct commission. The integration can be made by inserting your tracking code into the "thank you page" of your website (the page displayed immediately after a purchase or a subscription). On our website we have tutorials that explain exactly how to integrate AffiliationSoftware with various CMS and e-commerce systems. Your tracking code is located in: Admin Panel > Settings > Tracking.
4. Connect your site to your affiliate program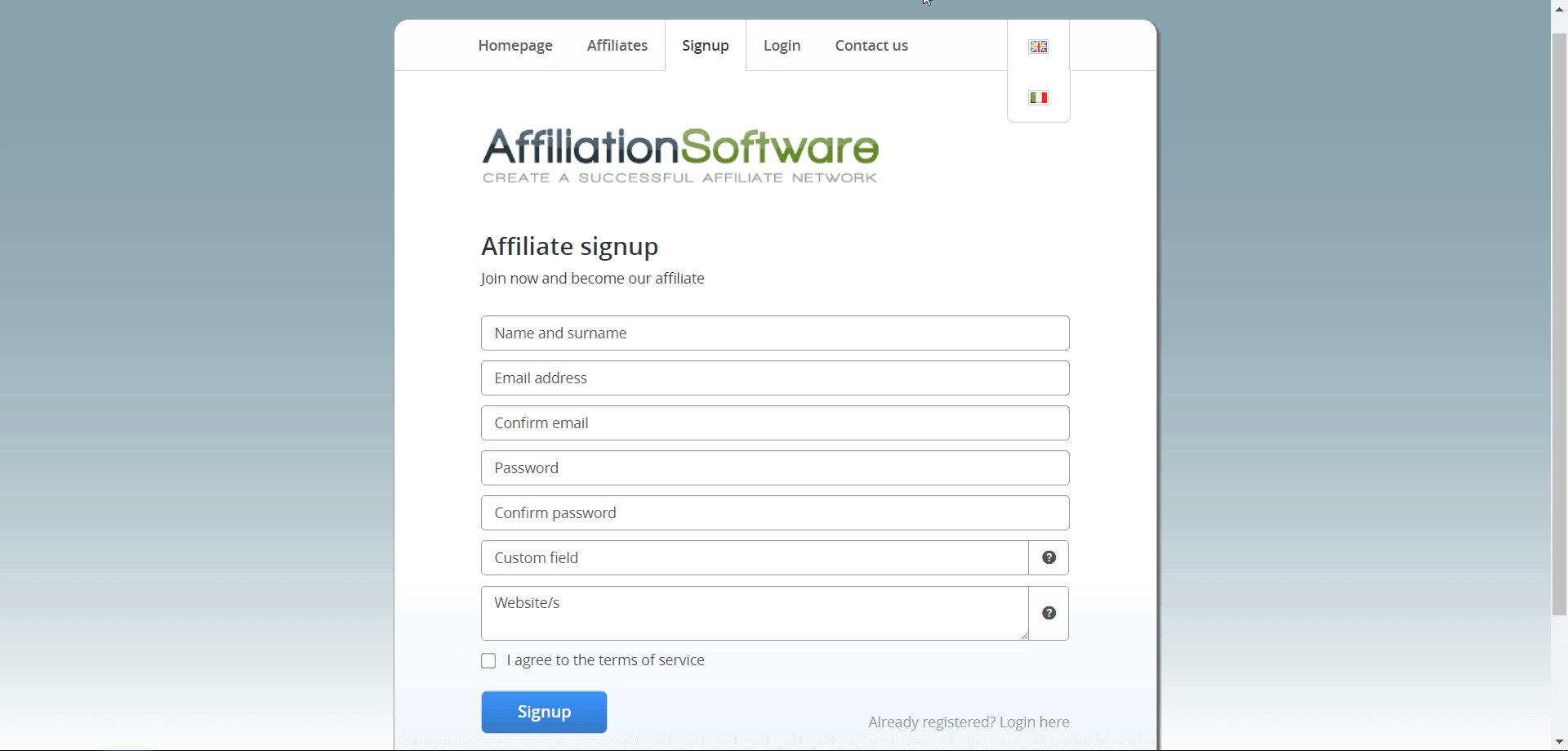 To ensure that the users can sign up to your affiliate program and promote your website, simply create a basic page that describe your affiliate program (benefits, commissions, etc) and on it,insert your affiliate signup page link. AffiliationSoftware allows you to create a build-in pages system that you can customize for this purpose, alternatively you can create the presentation page on your website. You can change the signup settings in: Admin Panel > Settings > General > Signup.
5. Verify your affiliate program settings (optional)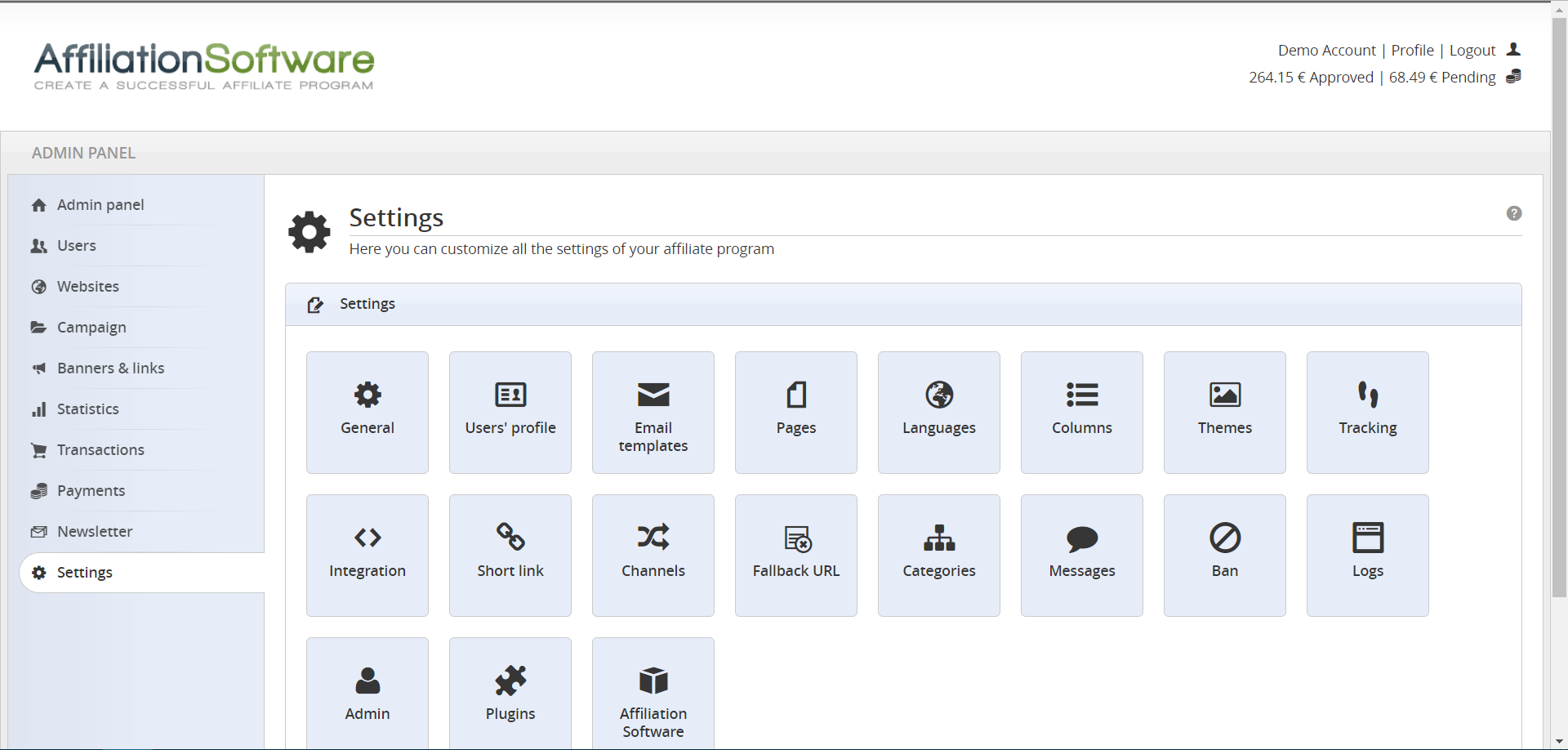 AffiliationSoftware has many options to customize your affiliate program, for example, you can change your logo, language, currency, profile fields, payment methods, email and page templates, and so on. By default, most of those settings are already configured to use your affiliate program correctly, but if you want, you can change them from the page: Admin Panel > Settings.
6. Test everything and start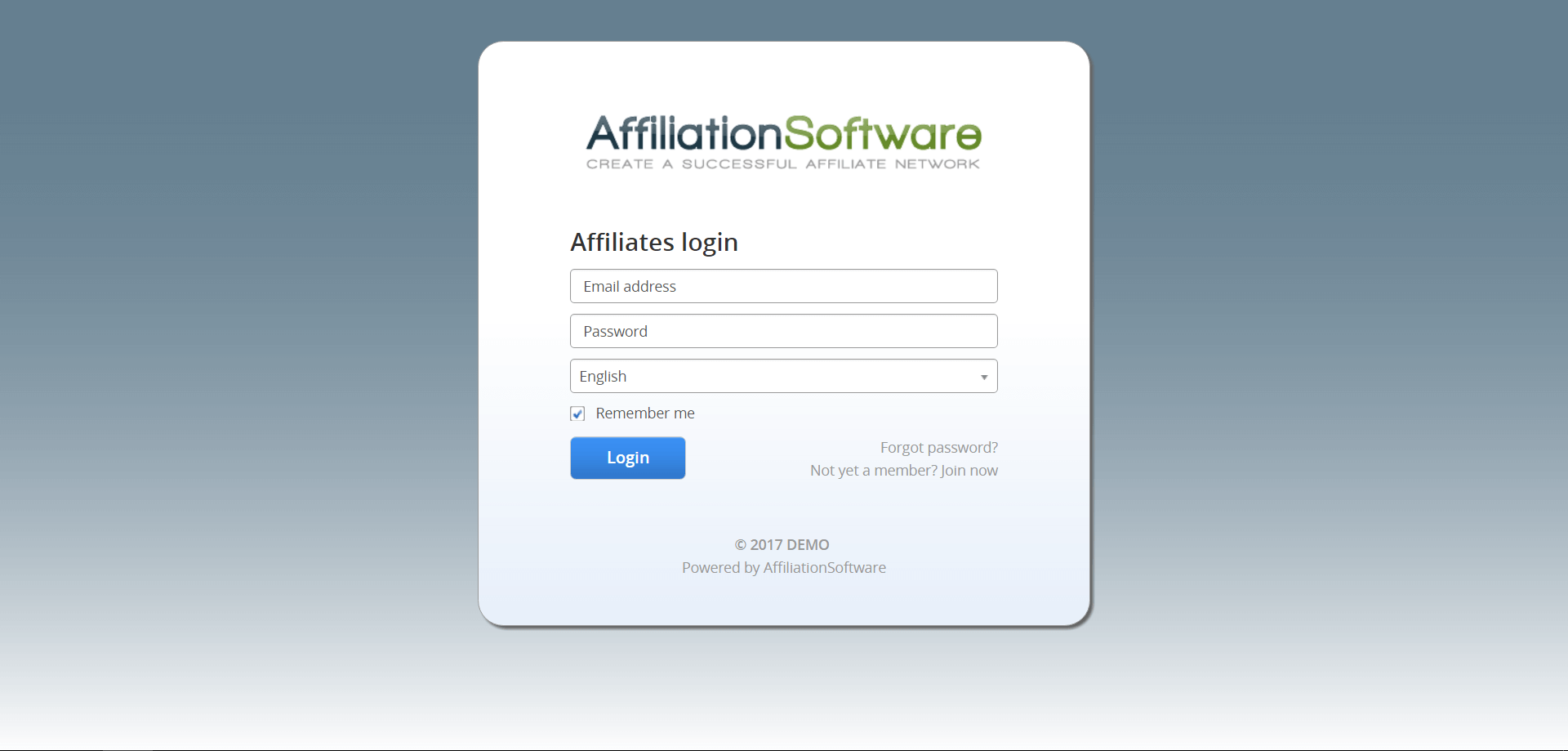 If you've followed these steps you are ready to start your own affiliate program! Before you start recruiting affiliates, we advise you to sign up and log in to the affiliate panel to get an idea of what your affiliates will see and how the system works. If you want to check the tracking code simply click on a banner/link in the affiliate panel and then simulate a purchase on your website. If it's all working correctly you will see a click and a commission.
---
You may also be interested in: