Sections of the Admin Panel
Only you can access to the admin panel, as administrator, to set up and manage your affiliate program. The admin panel is divided into sections, shown on the left menu. Each section allows you to manage a part of your affiliate program.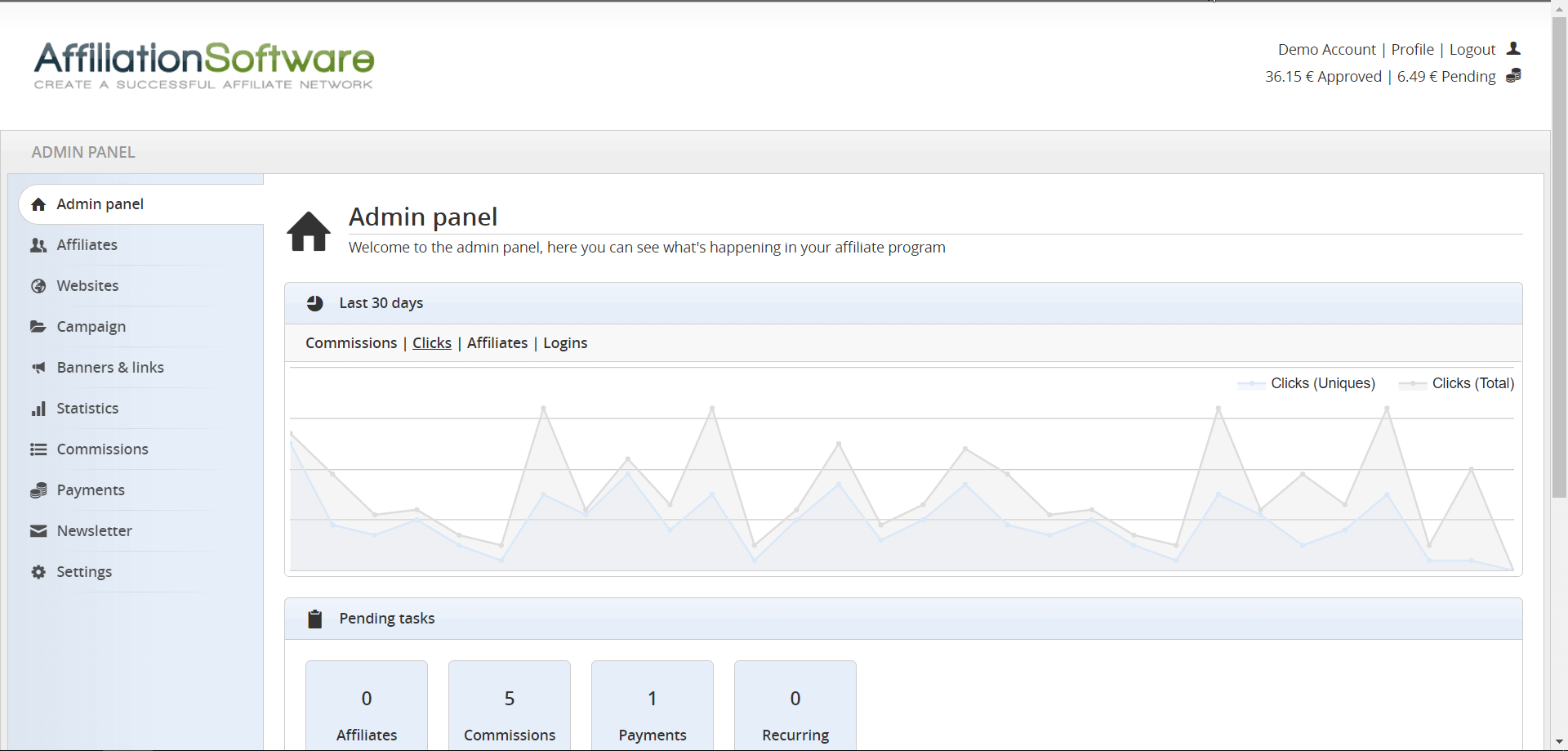 Admin panel
On the homepage of the admin panel you will find an overview of the statistics of your affiliate program. This page shows the tasks awaiting your approval and the statistics of the traffic and the sales generated by your affiliates.
Affiliates
On this page you can see all affiliates applied to your affiliate program. By clicking on the name of a user you can view and edit his data. With the buttons at the bottom of the page you can change status to the selected users. Only users with the "approved" status can log in to the affiliate panel.
Campaign
On this page you can set up the marketing plan of your affiliate program. The commissions you want to pay to the affiliates when they brings you a sale. To insert a commission click on "add commission". To change it click on the amount in bold.
Banner & link
Here you can insert your ads, such as banners and links, affiliates can use them to promote your site. Enter your site or the product page you want to promote as a "destination URL". Banners and links are generated automatically. To use them, affiliates only need to copy and paste their code.
Statistics
On this page you can monitor statistics and commissions generated by affiliates in real time. Use the search filters on top of the page to view only the results that you are looking for.
Transactions
Every time an user makes a purchase on your site, the affiliate program recognizes the affiliate who referred it, and register a transaction based on your commission. Only transactions with "approved" status will be paid to affiliates.
Payments
When an affiliate reaches the minimum amount to receive payment in approved transactions will be reported on this page. At this point, you can send the payment and just click on "mark as paid".
Newsletter
From this page you can send emails and newsletters to all affiliates or only to specific affiliates.
Settings
From the settings section you can change all the aspects of the affiliate program, it allow you to configure it according to your needs. The settings are divided into multiple sub-sections.