AffiliationSoftware Plugins
Plugins are very important as they add features to your affiliate marketing program and allow you to customize it according to your needs. This page explains the features of each plugin currently available in AffiliationSoftware.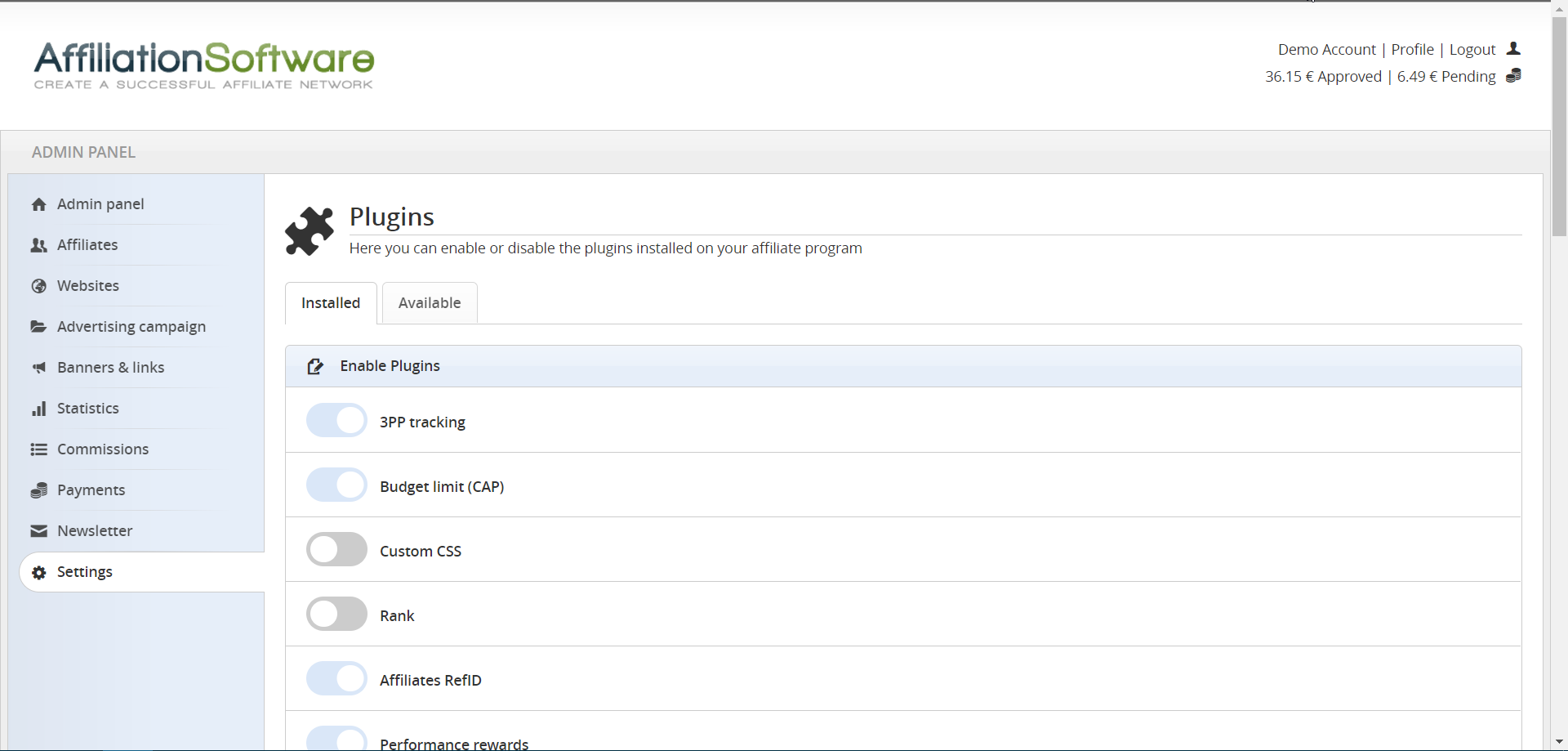 Managing plugins
You can enable or disable each plugin installed in your affiliate program and all the related features from the page:
Admin Panel > Settings > Plugins
---
List of available plugins
3PP Tracking
This plugin allows the affiliates of our affiliate program to add their own tracking code (pixel or postback) to get real-time notifications of any commissions registered on AffiliationSoftware. Recommended if you work with other affiliate networks or cashback sites.
API
AffiliationSoftware has an API (application programming interface) that allows developers to interface their affiliate program with their website and perform certain actions automatically, such as approving or declining the commissions generated by the affiliates based on the order status.
Advanced campaign
This plugin shows the advanced tracking settings in all campaigns. In this way the admin of the affiliate program can change the duration of the tracking, choose between last-click or first-click, and many other similar options.
Advanced commissions
This plugin adds 2 commissions statuses to the affiliate program: Confirmed and Hidden, and 4 types of commission: CPI (install), CPP (player), CPM (impressions), and Click-Out. It also enables multilevel click and impression commissions (up to 10 tier).
Advanced newsletter
Thanks to this plugin it is possible to schedule emails and newsletters for your affiliates, by selecting the exact date in which the message must be sent. It also allows you to send emails only to the affiliates registered for certain campaigns.
Advanced payment
This plugin adds another step to the payment system. Allows you to request the invoices about the approved transactions to your affiliates before sending their payments.
Advanced statistics
By enabling the "Advanced statistics" plugin you can get additional statistics data in your affiliate program reports, for example CTR (Click-Through Rate), CR (Conversion Rate) and EPC (Earnings Per Click). These data are useful for measuring affiliate marketing performance.
Affiliates RefID
This plugin allows active affiliates of the program to edit their RefID (the parameter to recognize the affiliate present in the URLs of the banners and inks) with a nickname of their choice, making the banner / links more friendly and easy to remember.
Affiliates SubID
This plugin allows affiliates subscribed to the program to use channels and up to 3 subIDs in their banners and links. Channels are used to categorize your promotions, subIDs are used to pass custom parameters from the click to the conversion, useful for 3PP tracking.
Auto-approve referrals
It allows you to automatically approve or decline Referrals commissions by cross-checking the activity of each new affiliates. If within 30 days the affiliate proves to be active on the basis of certain criteria the commission will be approved, otherwise declined.
Branding Free
This plugin allows you to hide all references to AffiliationSoftware, specifically removing all the "Powered by AffiliationSoftware" scripts on all pages and affiliate program panels. Suggest to whom you want to use AffiliationSoftware as white-label software.
Budget limit (CAP)
This plugin allows the administrator of the affiliate program to set budget limits for a specific time period (daily, weekly, monthly, total) by campaign, commission type, or affiliate. Once the budget is reached, the promotion will automatically be suspended and reactivated the next period.
Cashback
Thanks to this plugin you can activate cashbacks on certain campaigns, which will be displayed on a special page, along with a direct link to buy. On each purchase the affiliate will receive a Cashback. It is also possible to set a custom commission for cashbacks only.
Covering URLs
It allows you to mask the links and hide the referring URLs, in this way you can avoid damaging the reputation of your domain in case of complaints. Useful especially for affiliate network that make Email Marketing or Blind. To use it you need to install a PHP script in the domain you want to use.
Custom CSS
This plugin allows the administrator of the affiliate program to customize the design of the graphic interface of the panels, sign up, and login pages through direct insertion of Cascading Style Sheets (CSS) code.
Deep-link
This plugin adds a new type of link that allows affiliates of the affiliate program to directly point a link to specific pages or products on your website / e-commerce.
Direct linking (SEO frendly)
This plugin is very useful for SEO, allows affiliates to publish links that point directly to your website, instead of going through the redirect. It requires the integration of the click tracking code on each landing page of your website.
Display advertising
Enable the Ad spaces and the AffiliationSoftware's ads intelligence. Advertising spaces allow users to place multiple rotating banners in one place. The admin and/or affiliates can manage those banners in real time and without changing the code. The ads intelligence automatically displays the best banner based on the country, language and device of the user.
Email follow-up
This plugin allows you to set up custom emails that will be automatically sent to new registered affiliates. You can select the days after which each email message will be sent.
Email Marketing
Plugin designed for those who do a lot of email marketing (DEM), it allows to schedule the dates of sendings, and approve/reject previews directly from the panel. It also enables the automatic creation of links when adding the DEM's HTML code.
Email Reports
Allows admins and affiliates to receive weekly and monthly reports via email. Each report contains the user's statistics and earning related to the last week or the last month. It is very useful to keep active communications with your affiliates.
Export for Admin panel
This plugin allows admins to export all the statistics (commissions, payments, affiliates, etc.) by downloading them into a comma-separated values ​​(CSV) file. Admins can also select which data to export using the search filters available in the affiliate panel.
Export for Affiliate panel
This plugin allows affiliates subscribed to the program to export all their statistics (commissions, payments, subaffiliates, etc.) by downloading them into a comma-separated values ​​(CSV) file. Affiliates can also select which data to export using the search filters available in the affiliate panel.
Fallback URLs
This plugin allows the admin and/or the affiliates to set up their own Fallback URL, which is a page to be displayed in case of errors, if for example a campaign is stopped or does not accept traffic from a country the Fallback URL will be displayed.
Featured campaigns (Network and Business only)
With this plugin you can show a slider with the best advertising campaigns on the affiliate panel homepage. It also adds on a special page in the campaign section, which includes search filters.
Forced Matrix
With the forced matrix you can configure, not only the multilevel height, but also a specific maximum width. This allows the excess affiliates to be automatically moved to the next level of the matrix, forcing its filling. It is also possible to set up a spillover affiliate for users without a sponsor.
Geo-target
This plugin allows the administrator of the affiliate program to specify one or more countries from which each campaign's traffic must originate. Traffic from unauthorized countries will not be accepted.
Impressions
This plugin allows the administrator of the affiliate program to enable or disable the impression count (banner views), impression statistics, and access to related reports.
Impressions 3PP
This plugin allows you to hide the pixel provided by the advertiser to count impressions on banners and DEMs. This way, affiliates will see a normal URL, with your platform data, instead of the customer's original URL.
Lifetime commissions
It allows to assign a commission to an affiliate for all purchases of customers that he has referred, forever! Even on purchases made after years and made with different devices. This feature is compatible with certain e-commerce only.
Multi-admin
This plugin gives access to the admin panel to many users at the same time. Each administrator has all the permissions to manage the full affiliate program (viewing, adding, editing, and deleting data).
Multi-currency
This plugin allows you to show commissions in multiple currencies in the affiliate panel. You can set up a fixed monthly exchange rate for each currency. It also allows you to track commissions with currencies other than the default currency.
Multi-language
With this plugin you can set multiple languages ​​in the affiliate program, allowing every single user to use the interface in their preferred language (panels, pages, email notifications, and custom fields). It also allows you to categorize the banners and links by language.
Multi-level
This plugin allows the administrator to enable or disable the multilevel system of the affiliate program, which includes up to 10 tier (depth levels), subaffiliates tracking, multilevel commissions, multilevel statistics, and subaffiliated downline.
Pageviews
With this plugin you can see, not only how many visitors (clicks) bring the affiliates into your site, but also how many pages visit each of them. Very useful to verify the traffic quality. To work, it requires the integration of a tracking code on each page of the site.
PDF invoices
This plugin automatically generates invoices in the PDF format when payment is sent to an affiliate. Affiliates and admins can download the invoices directly from their panel.
Performance rewards
This plugin allows the administrator of the affiliate program to set rules to automatically change the affiliate commissions segment based on the number of conversions. For example if an affiliate generates more than 5 sales in one week.
Post-view tracking
It allows you to track sales referred by your affiliates, not only through clicks, but also based on banner views (impressions). If a user sees a banner on an affiliate website and then purchases, it will be automatically recognized.
Prefill
It allows you to add to the DEM unlimited Prefill fields (email, name, surname, etc.). Affiliates can set prefill values, which will be automatically transmitted to the final site, making it easier for users to sign up and increasing conversions!
Premium banners
This plugin adds 2 new types of banners in the affiliate program. The hover banner (also called pop-into), that is displayed in overlay at the center of the web page, and the floor ad banner, that is displayed in overlay at the bottom of the web page.
Product Feed
This type of ads is useful to connect all your products with other websites, such as price comparations or cashback sites. It offers the possibility to insert a product feed with tracking-links in XML format.
Promotions
This plugin allows you to specify the type of promotions accepted for each advertising campaign. With the search filters, the affiliates can easily view only campaigns that accept a certain type of promotion (for example: display, email, content, search, incent, etc).
Rank
This plugin allows the affiliate program administrator to assign a rating from 1 to 5 stars to: affiliates, websites, campaigns, and banners. The rank is only visible in the admin panel.
Real time chart
You can see the statistics of the last 30 minutes, thanks to a graph automatically updated every 60 seconds. This chart shows the total number of impressions, clicks and conversions registered every minute in the affiliate program. You can show/hide the chart lines by clicking on the legend at the top.
Recurring commissions
This plugin enables recurring commissions to periodically remunerate affiliates for subscription products or services. It is also compatible with Free Trials.
Revenues (earnings statistics)
The statistics of your affiliate program are related to the commissions of your affiliates. With the "Revenues" plugin you can monitor, not only the commissions, but also the profits (net and gross) of your websites sales obtained through the affiliate program. Profits will be automatically displayed in all reports.
Short links
This plugins adds a features to the "Tools" page that allows affiliates to shorten and protect their ref-links. Your affiliates only have to copy and paste thier ref-links and click on "generate link" to get a tracking short link.
Social share link
This plugin adds a new type of link, specially designed for sharing on social networks (facebook, twtitter, google + and linkedin). It is also possible to allow affiliates to customize the text and image to be shared.
Suggest campaigns (Network and Business only)
Thanks to this plugin you can recommend advertising campaigns to specific affiliates. When a campaign is recommended, the affiliate receives a notification email and can accept or decline the invitation with a simple click.
Tell a Friends
Thanks to this plugin, your affiliates can easily invite their friends on your website, by sending an email, pre-filled by the admin, which contains a tracking-link. Users who do not want to receive invitations can unsubscribe with one click.
Themes
This plugin adds 2 themes to the affiliate program, the administrator can choose which theme to set in the panel, in the login and in the signup page, and customize all the related colors. Both themes are made in accordance with HTML5 and responsive standards, accessible from any browser and device.
Websites
This plugin allows the affiliate program administrator to enable or disable the affiliate's websites, also choosing whether they should be mandatory or optional, and whether to request verification through files and meta tags. The statistics and commissions will be automatically divided according to the referring website.
Upload document
This plugin allows affiliates to upload a document (proof of identity, disclaimer, etc…). It can be set as optional or mandatory, if mandatory the affiliate can not receive payments until the document has been uploaded and approved by an admin.
IMPORTANT
Some plugins are already included on AffiliationSoftware (depending on the version) while others can be purchased directly from our Client Area. If additional features are needed, please request a software customization.